For full stories from 2011/12 season, scroll down to below this season's entries
For reviews of Hunting Seasons 2010/11 & 2009/10 scroll down further
Southdown & Eridge FH thugs attack & hospitalise sab, man arrested

31-12-12 Brighton Argus
Arrest following attack on anti-hunt group
A man has been arrested following an attack on an anti-foxhunting group as they monitored a Boxing Day meet. A member of the Hunt Saboteurs Association has alleged to police he had a brick thrown at the window of his car, had his iPad and keys stolen and was assaulted with sticks as he monitored the Southdown and Eridge Fox Hunt
[right]
in Plumpton on Boxing Day. Sussex Police said a 23-year-old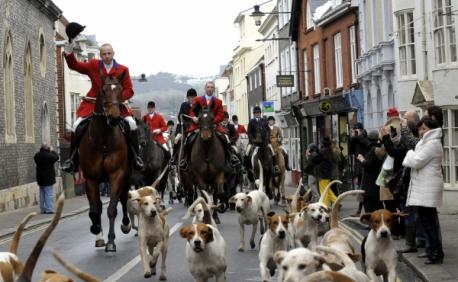 local man was arrested for criminal damage, assault and theft and bailed until January 30 while the investigation continued.
A spokesman from the Hunt Saboteurs Association said: "About seven masked men came running towards our parked 4x4. "One of our members locked himself inside the car for protection. "The windscreen was smashed, another man was trying to smash the driver's door and a third came through the rear door. As well as the windscreen both doors on the driver's side have been severely damaged and they stole not only the keys to the vehicle but also an iPad."
A spokesman from Sussex Police said: "Police are investigating a report of an attack on a man monitoring the Southdown and Eridge Hunt on Boxing Day. "The man says he was in his Landrover at Plumpton on Wednesday morning when he was attacked by a number of men who had approached on quad bikes. He said he was hit with sticks, suffering a cut to his hand and had his iPad and ignition keys taken. A 23-year-old local man was arrested for criminal damage, assault and theft and bailed until January 30 for further inquiries."
In October, members of the Hunt Saboteurs Association said they were attacked by masked men while they monitored a meeting in Firle, near Lewes. On that occasion, a 28-year-old man was arrested on suspicion of assault. He was bailed until December 3 but police have since decided that no further action will be taken against him. The Southdown and Eridge Hunt Secretary, Mrs D Grantham, refused to comment.
27-12-12
Independent
Police have arrested a 23-year-old man after a hunt saboteur was apparently beaten with sticks by a gang of men on quad bikes during a Boxing Day hunt
The Hunt Saboteurs Association blamed hunt supporters for the alleged attack in Plumpton, East Sussex, which left the victim with "severe injuries" to his hands. He had been monitoring the Southdown and Eridge Hunt from a parked Land Rover, the association said. Tension between the pro- and anti-hunting lobbies has intensified after a reported increase in illegal hunting. Members of the hunt did not respond to a request for comment.
26-12-12 HSA Press Release
Vicious attack on hunt saboteur on Foxhunts' most prestigious day
A hunt saboteur has been viciously beaten by supporters of the South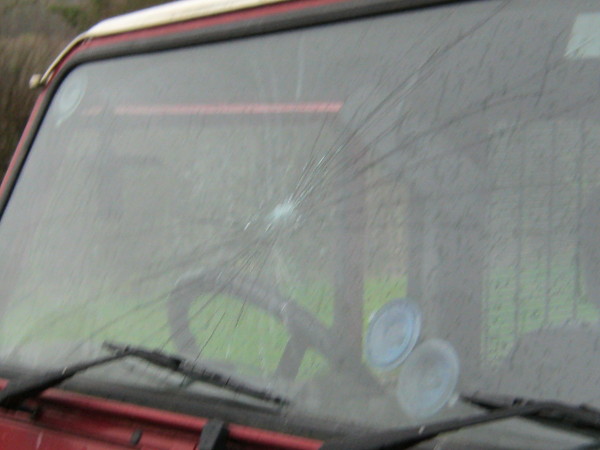 Down and Eridge Foxhunt during their prestigious Boxing Day meet at the White Hart pub in Lewes, East Sussex. The saboteur was on his own in a vehicle when a hunt supporter got in through an unlocked rear door. A group of seven men then attacked him with walking sticks and he was forced to curl up to protect himself. He suffered severe injuries to his hands which he had used to cover his head. The attackers also stole an ipad, the vehicles keys and caused damage to the vehicle, including smashing the windscreen
[left].
One man has been arrested following the incident.
Lee Moon, spokesperson for the Hunt Saboteurs Association, stated: "Boxing Day is the most prestigious, high profile day in the hunting calendar, the day when the national press are watching them and they are on their best behaviour. Yet still their violent supporters cannot control themselves and viciously attack those who peacefully oppose them. We are pleased the police have acted so promptly and are hopeful that more arrests will follow."
26-12-12 S.Downs Hunt sabs blog
.... The Southdown and Eridge Hunt meet in the centre of Lewes, blocking up the streets, and then ride up onto the Downs to the west. Brighton and Hastings sabs had already climbed the hill and were waiting for them near Blackcap. From very early on several familiar men on quad bikes were driving at the group and attempting to intimidate the sabs and other people out walking. The hunt recently told police these men are nothing to do with the hunt, yet they always appear wherever the hunt is and claim to be 'agents' of the landowners, wherever they are. They even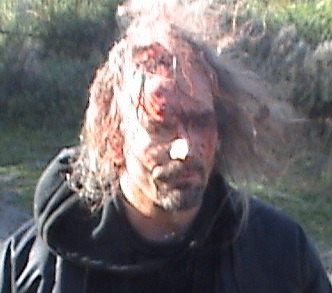 do what the hunt tells them to.
The hunt did not stop to cast for a scent until well away from all public rights of way. No trail was laid. When sabs heard hounds in cry, the same men on quad bikes physically prevented sabs from leaving the footpath and punched several sabs too. Eventually we had to walk to rejoin our vehicles as the hunt had moved off out of sight. As our vehicles arrived on the busy A27, the men threw a rock at our vehicles, narrowly missing the windscreen of the car behind.
Once we were back up on the hills looking for the hunt our drivers told us they were being attacked in their vehicles. We must be very careful what we write so as not to prejudice any criminal proceedings brought against the attackers. Both drivers were attacked, one injured, property was stolen and a vehicle damaged. Police are investigating......
POWAperson adds:- Sabs actually say there were several assaults on them on Boxing Day, of which the headlined one was just the most serious. And this is by far the first time sabs have claimed to have been attacked by mobs of thugs connected with this Hunt in recent years. Previous reports can be found
here
,
here
,
here
and
here.
Pic above right is of sab injured last time the hunt thugs cut loose.
Cumbria hunt supporters ambush, attack, pursue LACS investigators

26-9-12 LACS Press Release
Charity investigators ambushed and assaulted by hunt supporters
Wildlife Crime Investigators from the League Against Cruel Sports were ambushed and assaulted by hunt supporters in Cumbria today. The League deploys highly trained undercover investigators across the country to help detect and prevent wildlife crime.
Two such League investigators were preparing to go home after spending the day covertly monitoring a local hunt suspected of illegal activities, when they were spotted by a pro-hunt supporter who attempted to take photos of them. The situation quickly escalated as more hunt supporters arrived, shouting abuse. Appallingly, one of the investigators was then physically assaulted before he could get away and call for help. Retreating form the scene, the investigators called 999, only to find that they were being followed by the hunt supporters. One car gave up after only a few miles, but the second pursued the charity workers for many miles at high speeds down the M6. Once the chase was finally over, the investigators headed to the local police station to report the matter. Shaken, but thankfully on this occasion, not seriously harmed.
A League Investigator comments: "This kind of behaviour comes as no surprise to our team of investigators. Pro-hunt groups increasingly seem to resort to intimidation tactics and even violence. Perhaps we have them rattled, they should be! Our recently enlarged operations team combines the knowledge and skills of experienced investigators, legal experts and ex police officers to make sure that these wildlife criminals are brought to justice".
Joe Duckworth, Chief Executive of the League Against Cruel Sports says: "If hunters have nothing to hide and if they are hunting within the law why do they resort to violence and intimidation? We can only assume that they are trying to scare off investigators so that their illegal activities are not witnessed. It won't work and this type of behaviour just makes us more determined than ever".
POWAPerson adds:- This follows an incident in Bucks a couple of weeks ago in which LACS investigators were ambushed and menaced by hunt supporters before ploice came to their rescue. Supporters of some Cumbrian hunts have an evil reputation. In March this year a group of Coniston supporters attacked sabs, injuring one. His assailant is still being sought by Cumbria police. They then, reportedly, obstructed and abused paramedics trying to reach the injured man. In 2010, two Coniston supporters were
cautioned for assaulting a League monitor
, in an attack in which he was pushed off a wall, and there have been a number of attacks on sabs, monitors and even, in one case, on a media photographer in the past.
Avon Vale FH five face Hunting and Badger Act charges in case brought by RSPCA
One JM to plead to interfering with badger sett, all other charges denied
Former senior Master Jonathan Seed among those charged

25-9-12 Wiltshire Gazette and Herald
Former huntmaster vows to fight badger sett charges
Five members of the Avon Vale Hunt, including a Wiltshire councillor, have appeared in court charged with breaching the Hunting Act 2004. Joshua Charlesworth, 18, from East Tytherton; Benjamin Pethers, 28, from Hoopers Pool, Southwick; Stuart Radbourne, 28, from The Common, Bromham; Paul Tylee-Hinder, 58, of Quemerford, Calne and Jonathon Seed, 54, of Chittoe Heath, Bromham all denied the breach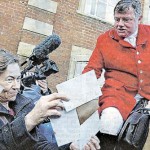 when they appeared before magistrates in Chippenham on Tuesday. Four of them denied an additional charge of intefering with a badger sett, though Mr Radbourne, one of the joint hunt masters, indicated a guilty plea to that charge.
The case has been brought by the RSPCA and refers to incidents alleged to have taken place on March 6 this year at Stockley Hollow, near Calne. The bench heard that the case could not proceed on Tuesday so it has been adjourned until November 9 when a date for the trial will be set. The five all appeared on summons so the question of bail did not arise. Mr Seed, Wiltshire councillor for Summerham and Seend and a former hunt master, said he intended to fight the allegation against him. In a statement outside court he said: "This is a private prosecution by the RSPCA and I believe that is has been commenced for political reasons as their stance against hunting is well known and it is of great significance that Wiltshire Police, after advice from the Crown Prosecution Service, declined to take this case forward. In my opinion these proceedings are an abuse of the private prosecution system which needs to be addressed in due course. I totally deny the allegations of any offence against the Hunting Act and there is simply no evidence of either myself or any of the other defendants or anyone else being involved in any illegal hunting on the day in question."
Pic left above shows Jonathan Seed getting a bit aerated when confronted at a Boxing Day meet at Lacock by POWA Associate and producer of the film
'A Minority Pastime'
, Denise Ward. The original report of the incident in March can be viewed here.


JULY 2012
..... 20th July - S.Pembrokeshire FH supporter jailed for firearms offences after allegedly shot monitor


Welsh hunt supporter jailed for firearms offences after allegedly shot monitor

20-7-12
BBC News S.W.Wales
Pembrokeshire farmer, 66, jailed over firearms offences
A South Pembrokeshire Hunt supporter, arrested but not charged after a protester claimed she had been shot in the head, has been jailed for firearms offences. Steven Barrett
[left],
66, of St Clears, Carmarthenshire, had a sawn-off rifle and ammunition inside his van, Swansea Crown Court was told. He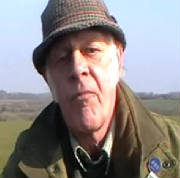 admitted several fire arms offences. Due to his poor health, he was given a three-and-a-half year jail term instead of the minimum of five years.
Janet Gedrych, prosecuting, told Swansea Crown Court how on 19 October last year the hunt gathered in a clearing in a wood near Saundersfoot, Pembrokeshire. There were also several supporters, travelling in vehicles, and protesters. Both groups, she said, were "well known to each other". An argument took place and one of the protesters, Dr Adrian Smallwood, began to film the scene. His wife, Monica, then said she had been shot in the head and blood could be seen coming from her forehead. Miss Gedrych said the police were called and, after viewing the film footage, identified several vehicles. Barrett was stopped as he returned home in his van. Under the front passenger seat officers found a gun that has been illegally modified. Miss Gedrych said it was originally a 0.22 rimfire rifle but when officers found it it was more like a single shot handgun. Barrett had shortened the barrel and replaced the stock with a pistol grip. Officers also found 10 live rounds of 0.22 ammunition designed to expand on impact. His home was searched and 10 air rifles and six air pistols were found. Barrett told police he had put the gun and ammunition into his car because he had been under the impression that a nearby farmer would ask him to shoot a fox. But he would not say who the farmer was. Miss Gedrych said police made a thorough search of the clearing and could find no evidence of anyone being shot. Barrett was not charged in relation to the alleged shooting.
James Hartson, defending, said Barrett, was a former gamekeeper and now a semi-retired farmer. Mr Justice Spencer said he had given the matter "anxious consideration". He added that Parliament had laid down a five year minimum sentence for such offences for a good reason and Barrett could avoid it only if there were exceptional circumstances. He ruled that because of his age and his poor health he could reduce the sentence to three and a half years, but no lower. He said Barrett admitted he had left the gun and the ammunition in his vehicle overnight and had run the risk of the weapon falling into the wrong hands. Barrett admitted possessing a rifle with a shortened barrel, illegal ammunition and an overpowered air rifle.
HSA Press Release
Relief of protestors as hunt supporter jailed on firearms offences
A local hunt protest group has reacted with relief to the jailing of a prominent supporter of the South Pembrokeshire Hunt..... The incident happened when two members of West Wales Anti Bloodsports were observing the early morning activities of the South Pembrokeshire Hunt from a footpath. After encountering a gang of hunt supporters, a protestor
[right]
was shot in the head with some kind of projectile, possibly an airgun pellet. Six individuals were arrested and their vehicles searched, and a sawn-off rifle and ammunition was discovered in Barrett's possession. He claimed in court that it was for shooting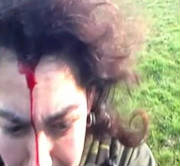 foxes.....
The shooting occurred at a pre-season 'cubbing' meet, at Campshill Farm near Yerbeston. It resulted in the protestor being taken to hospital with a profusely bleeding head wound. Shortly beforehand, Barrett had subjected the couple to highly offensive and apparently racist abuse, and a South Pembrokeshire Hunt terrierman had challenged them to a fight.
"We had a strong suspicion that a fox had been illegally dug out, and I was about to phone the police when I heard a metallic pinging noise. Suddenly, there was an intense sharp pain in my forehead, and blood pouring down my face. I knew that I had been shot with something, and a feeling of terror came over me" said the protestor. "I was taken to hospital in an emergency ambulance, and found to have a circular head wound that had penetrated right through the skin. I would have lost an eye if the missile had hit me lower in the face".
A spokesman for West Wales Anti Bloodsports said that Barrett had previously been openly threatening towards them, and his behaviour reported to the police. "We are immensely relieved that this violent individual has been jailed. We are however disappointed that the South Pembrokeshire Hunt Master was not apparently inclined to reign in such loose cannons. Even after being arrested, Barrett continued to attend hunt meets, and was able to continue his pattern of intimidation. On one such occasion, he appeared to be working for the hunt, and was cracking a long whip in a frightening manner. We have had our car tyres slashed on three occasions when out watching the South Pembrokeshire Hunt, and had horses backed into us on dozens of occasions. The incident also raises the question of why Barrett thought a local farmer might ask him to shoot a fox on the same day the South Pembrokeshire Hunt were out. We are now more determined than ever to continue our wildlife protection work, as it is clear that barbaric animal cruelty, despite being illegal, is still rife in our countryside".
POWAPerson adds;- Footage of the incident is on
YouTube
. Whilst the violent and bigoted behaviour of many hunt supporters is well known it still comes as a shock to hear and see it so graphically illustrated. Footage of Barrett foul-mouthedly abusing and threatening female hunt monitors is also online. The monitors also make the following claims about the S.Pembrokeshire:- "West Wales Anti Bloodsports has filmed foxes being pursued by packs of hounds on several occasions. The group has recorded one instance in which a fox was shot and disembowelled. On another occasion, a fox was filmed escaping from a hedge, where Pembrokeshire terriermen with nets and a dog were trying to trap it. In addition, at least two active badger setts were dug out, one on land belonging to the Master of the South Pembrokeshire Hunt. These acts echo wildlife crimes for which hunt officials in England have been convicted. The group has published video clips of what it witnessed on the Internet."