Deja vu as Warks FH cub hunt from Hunningham just as last year's meet
16-10-19 Facebook - West Midlands Hunt Saboteurs Warwickshire Hunt, Hunningham (near Southam), Tuesday 15th October 2019 Thank you for the donations we have received towards our fuel costs. Yesterday money donated was spent attending a cub hunting meet of the Warwickshire Hunt. The Warwickshire Hunt met at Hunningham Meadows which is owned by Dr Barbara Mary Helena Perks.
Deja vu - We often have a sense of deja vu when sabbing the Warwickshire Hunt. Hunt criminal Will Goffe takes his hounds to the same places foxes are then seen running with hounds not far behind. Then next time they are in the same area Hunt criminal Will Goffe will take the hounds to the exact same location, a fox is seen running in the exact same direction with hounds not far behind. Anyone would think that Goffe wants to add to his hunting conviction and knows exactly where to find foxes for the hounds to hunt.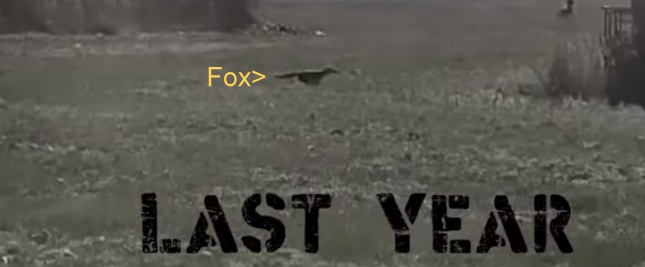 The Hunt set off around 7.30am, holding road users up as they travelled to their first draw of the morning a dismantled railway line where foxes are known to like to live. Unsurprisingly the dismantled railway is always were this Hunt goes for their first draw. A sab stood in the exact same spot he saw a fox run last year, yes you've guessed it a fox was seen running by the sab in the exact same spot.
The Hunt carried on along the dismantled railway with the huntsman hunting on foot for a period of time, as usual convicted hunting criminal Will Goffe likes to hunt on foot from time to time especially when hounds are struggling to pick up on a scent. The previous day's downpours meant the ground was saturated and many fields were waterlogged.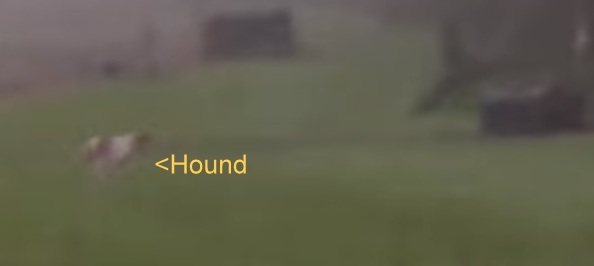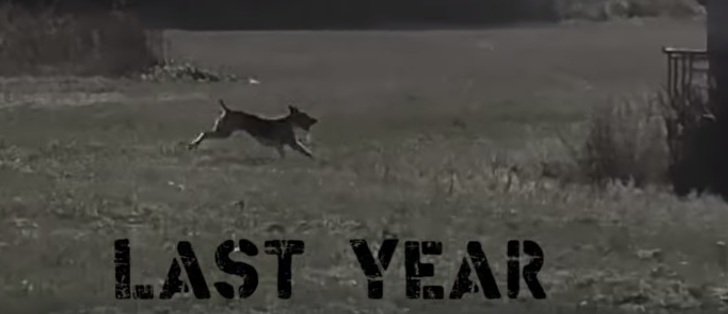 He eventually left the dismantled railway and once the foot sab had been picked up we made our way towards Bascote and found the Hunt holding around a big field of elephant grass.
The bullying and harassing pink viz brigade started to play loud music as hounds could be heard in cry coming towards us. They even tried to block us walking on a road as we were too near their hunt horses or 'property' as hunt steward Sam Austin referred to the horses as. Riders were positioned around the field and at one point the hounds came screaming in cry towards a sab and riders were using their horses to frighten the fox back into the elephant grass. This happened for some time. This is one of the most brutal things to ever watch during cubbing, terrified foxes desperately fighting for life and forced back in by grown adults on horses.
Such barbarity. There is no difference between fox hunters and any other bloodsports. The pomp and ceremony, picnic hampers in the back of status symbol cars... fox hunting is window dressed up as a lovely quaint day out. The reality is different, cub hunting is no different to any other bloodsport like a dog/cock fighting. Sentient beings are forced to fight for survival in a confined space jeered on by people wanting to see 'sport'. There is no difference.
Once they left their blood pit they headed over to another known popular hunting haunt Debdale Wood which is near Leamington Hastings. Again we know how the Hunt like to hunt this wood, so one sab positioned himself inland whilst the driver positioned herself along a stretch of road where foxes are frequently seen running. The Huntsman didn't stay long in this wood, two well positioned sabs and lots of phone calls saw the Huntsman leave the wood and cross over the road back towards Hunningham.
We knew he would hunt another dismantled railway on his way back and sure enough we found hounds in cry and some on the road just down from the hunt meet. Riders were on the dismantled railway with hounds running along the top. They were clearly hunting a fox and ended up back in the same field they started in. The hunt packed up around 11.30am.
If you would like to help towards our fuel costs you can donate via the link below. The Warwickshire Hunt cub hunt 5- 6 days a week. On Monday they were at Knightcote. https://www.paypal.me/westmidlandhuntsabs
We would just like to say thank you to everyone who has donated towards our costs so far this season and for all the kind messages of support we have received. It means a lot to us. Thank you.Confidential Information tip of line 07767620767
Sabs say police use 5 cars & searches to let Hunt make getaway
16-10-19 Facebook - Staffordshire Hunt Sabs 5 police vehicles help Hunt escape In one of the most grotesque acts of the police helping an illegal hunt we've seen, this morning 5 West Mercia police vehicles allowed the Albrighton Hunt to escape from sabs.
The day started strangely as the Huntsman (well, he claims to be) inviting us to follow him from his kennels to watch him hound exercise. We thought we would take him up on his offer as it seemed too good to be true that they were just exercising and not cubbing.
Soon it became clear that they had no intention to exercise at all as a horse box made a pathetic attempt to block us in from following the hound van. With sabs now on his tail he drove several miles before performing a U-turn at the end of a residential street. He then made his way to the motorway after several miles he pulled off into a service station where 5 police vehicles were waiting for us!! With blue lights flashing we were pulled over and boxed in by the police. The police then used their powers to search every sab in the sab wagon.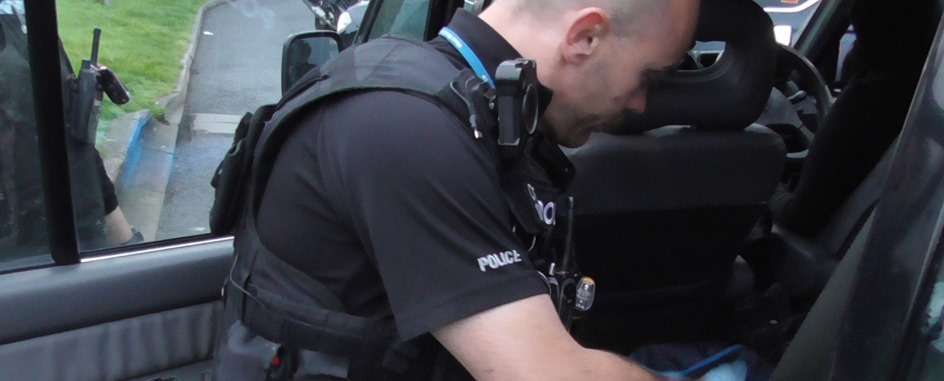 While this was going on who do you think was allowed to leave the car park to go hunting while waving to us and with a thumbs up... YEP, THE HUNT.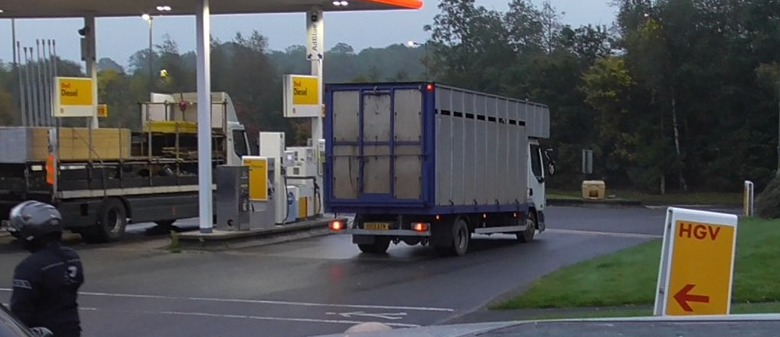 Obviously nothing illegal was found by the police searching other than a sab's personal letters as one police officer seemed to take great pleasure in reading it all (we thought he was meant to be looking for weapons) but by this point the Hunt had escaped to go cubbing as they had always intended.
Police intimidation will not scare us, it will not stop us, it only makes us stronger. https://www.ko-fi.com/staffordshirehuntsabs.
Airfield complains as invasion by Hunt causes cancelled flights
12-10-19 POWAperson says - The incident happened near Wem in Shropshire, about 10 miles north of Shrewsbury. Probably the North Shropshire FH. Typical lack of consideration for property others' business and safety by Hunts.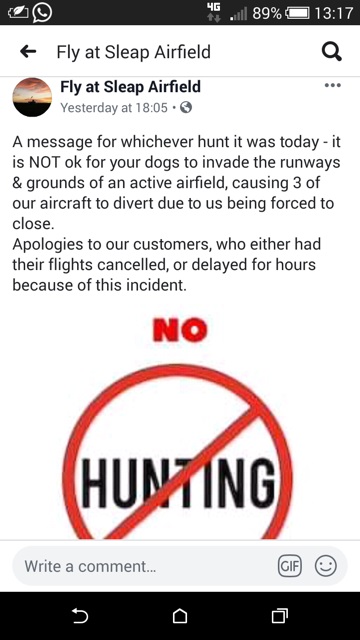 14-10-19 Shropshire Star Shropshire airfield forced to close after hunting dogs 'invade' runways An active Shropshire airfield was forced to close to flights, and planes were delayed from landing and taking off, after hunting hounds ran loose across the runways. Some flights were cancelled and others were delayed for hours after dogs from the North Shropshire hunt trespassed onto Sleap Airfield, near Wem, on Saturday. The disruption caused three aircraft to change their course and left some pilots and customers grounded for the day.
In a statement posted online, a spokesperson for the airfield said: "A message for whichever Hunt it was today – it is NOT OK for your dogs to invade the runways and grounds of an active airfield, causing three of our aircraft to divert due to us being forced to close. Apologies to our customers, who either had their flights cancelled, or delayed for hours because of this incident."
Airfield manager Nathan Cross said the incident was now under investigation and he had been in touch with the Hunt and would be meeting with them in the coming days to discuss the incursion. He added that the airfield, like any other around the country, had a system in place to deal with any incursion which could occur.
A spokesman from the Hunt said: "On Saturday the North Shropshire Hunt was carrying out lawful trail-hunting activities when a handful of hounds deviated from the scent which had been laid for them to follow.Action was taken immediately to retrieve the hounds and we want to thank everybody involved at Sleap Airfield who enabled us to remove the hounds from the area as soon as possible. We express our sincere apologies for any inconvenience this may have caused and appreciate all the assistance given at the time."
Mendip Farmers FH go home after 90 minutes stationary at meet
12-10-19 Facebook - Mendip Hunt Sabs We knew the Mendip Farmers' Hunt would be desperate to get out hunting today given they didn't go out last Saturday (didn't want to have blood on their hands for their hunt ball?) So we headed to greet them this morning with our friends at Bristol Hunt Saboteurs and Bath Hunt Saboteurs. We positioned our vehicles strategically so we would be able to follow on and, despite their efforts at blocking us in, we were able to follow them to their 7.30am meet at RM Penny Plant Hire & Demolition in Green Ore (another business to avoid).
Sabs again positioned themselves strategically and waited for the hunt to leave the meet. They eventually did at around 9am - heading back to the kennels! Sabs 1 Hunt Scum 0... The local wildlife has a little respite now this morning.
If you'd like support our fuel fund, you can do so at https://ko-fi.com/mendiphuntsabs. See you soon Mendip Farmers' Hunt!
E. Kent FH terriermen sneak back into banned FC land after meet
Sabs caught them lurking in wood with their dogs - saw them off
7-10-19 Facebook - West Kent Hunt Sabs Saturday 5th October This Saturday we were out with the East Kent with West Street hunt at Denge Wood who met at 8am. We unfortunately missed the Hunt move off which was a big mistake on our part because it meant we spent most of our time tracking the hunt rather than observing them. The saving grace was the fact that with little or no wind we would have heard them if they started hunting properly. It remained quiet so we assume the huntsman kept his hounds close!
Once again we could not drop our guard as the Hunt had two quad bikes with terriermen and terriers in tow. No " Daddy day care!" today, instead we were blessed with old man "Millsy" and "Martin Minerals!" regular terrier bods for this Hunt.
The Hunt was seen packing up at 10am with us hardly catching a glimpse of the Hunt until the end, which was not that great for us. However we went through the motions which meant that the hunt could not risk hunting blatantly on Forestry Commission land.
As we took a well earned coffee break the hunt started to leave in all their various horse boxes but for some reason the terriermen came back and headed into Eggringe wood. Maybe there was a logical explanation but we were not going to take any chances so followed them in!
They had clearly split up for some reason and "Minerals" was looking a bit sheepish when we caught up with him. His terriers were barking in his quad box, which begs the question, why did he have terriers with him when only trail hunting is permitted on FC land?
If you wish to contribute to our ongoing vehicle costs then please consider donating here: www.paypal.me/eastkenthsa... every little helps and keeps us in the field!
3 foxes saved from S. Dorset FH as heavies take to tripping women sabs
7-10-19 Facebook - Weymouth Animal Rights Hit Report 5.10.19 - South Dorset Hunt, meet at New Buildings, Piddlehinton Acting on a tip off, sabs rose bright and early, yet again before the sun was even up, and headed for Piddlehinton to greet MP Richard Drax's* tenants Juggers with his South Dorset Hunt circus!
We arrived as Juggers aka Tobias Cole, and his group of wildlife murderers, well 10 of them (not bad for the SD on a Saturday) were leaving the meet. Setting off in the direction of Heaves Coppice and toward where one sab foot team had been deployed along a footpath to the north of Heaves Coppice, and another foot team coming in from the east leaving the Landy team on the road to the South, Juggers and co were completely surrounded by sabs! Doing the only thing left to him he made a quick dash for Highlands and the infamous 'L' shaped copse, where there always seems to be c*countrymen on quads hanging around and they always seem to 'find' a fox!!
By now the usual three hired 'knuckle draggers', all on separate quads (maybe a promotion or a reward for being loyal little soldiers), came in from the north and proceeded to surround Sabs, push them around, and be as intimidating as they possible could. Joined now by Monitors there were more eyes on the Hunt and every move Juggers made was being watched.
One fox was seen to safety by the now one group of joined up foot sab teams, using a gizmo and voice calls. This caused rather a stir for Juggers and the 'meat' men and the intimidation ramped up to tripping up Sabs, in particular the female sabs, such big, brave men!
Monitors called in that a fox was seen heading South from Well Bottom. Sabs quickly ran and covered the scent with citronella whilst our navigator ran into the fields and using the gizmo to pull the dogs back. Number 2 fox saved.
Juggers then turned and headed north whilst our navigator legged it across the fields being chased by the 3 quads. This gave the sabs in the field some small respite away from the knuckle-draggers and make some quick thinking decisions not to follow the Hunt in case of possibly pushing another fox straight towards the Hunt.
Juggers then headed for Incombe Wood but with no luck picking up any fox scent he headed back to Heaves Coppice....and to our awaiting sabs. Surely it was time to call it a day, but no, the bloodlust was turning into a frenzy. With the kids and the field now gone, Juggers and his two frothing at the mouth sidekicks were more determined to get a kill.
With monitors on the road at Coombe Bottom, the Landy watching the meet and Sabs heading towards New Buildings, the dreaded call came in once more that a fox was seen running just below Coombe Bottom and to get there quick with 'equipment'.
The Landy team raced to the Coombe Bottom and again their navigator ran into the school field spraying citronella to cover the scent. Within seconds the dogs were everywhere and Juggers was running on foot at full pelt down the road and into the same field. The fox ran towards the copse over the football field with Juggers, dogs, terriermen and all the quads racing after the terrified animal. Sabs ran in from the West and despite all the pushing and shoving from the knuckle draggers got into the football ground and began using voice calls and the gizmo to give the poor fox some chance of survival from the jaws of the pack.
Absolute chaos then ensued, the bloodlust spewing all around, and then, silence... The fox had got away!!
This was an arduous day for our foot Sabs who went above and beyond the call of duty. A very professional sab today with great communication and skilful map reading by all. Today also showed how Sabs and Monitors work well together in saving lives.
Thank you for all your support and generous donations to pay for the 2 new tyres for the Green Landy. Thanks especially for a very generous donation from the wonderful @Dawg Dogs. We now have the Green landy back on the road and ready to save our wildlife.
If you would like to join us then please message this page or email weymouthanimalrights@protonmail.com and we will get back to you as soon as we can. https://gogetfunding.com/fuel-and-equipment/.OWAperson
POWAperson adds - Richard Drax is the local, right-wing, Tory MP, an enthusiastic supporter of hunting. His enormous estate was funded largely on the proceeds of slavery.
Children scream as family hears Badsworth etc. FH kill fox
Sabs threatened with thug carrying illegal telescopic baton
N. Yorks police refuse to act against blatant cub hunting
30-9-19 Facebook - West Yorkshire Hunt Saboteurs Fox kill witnessed by members of the public - illegal hunting through Brockadale Nature Reserve - Hit Report ~ BBMH/YAS ~ Stapleton Park Farm ~ 28.09.19 On Saturday we paid our first visit as a group to the Badsworth and Bramham Moor & York and Ainsty South merger Hunt, who were blatantly illegally Hunting around the vast private estate of Stapleton Park, along with old friends from Sheffield Hunt Saboteurs and East Yorkshire Coast sabs, and new friends from York Anti-Hunt League.
The Hunt set off from the meet at around 7.30am, straight towards a variety of coverts located in the estates grounds. Riders were seen lining the sides of the wood from the off, showing blatant attempts to illegally hunt away from the public eye.
Just 15 minutes after the Hunt had set off from the meet, our sabs were approached by a masked male in a face covering, who proceeded to threaten sabs with extreme violence. He was also in possession of an ILLEGAL TELESCOPIC BATON. We can tell from their behaviour that this Hunt are becoming increasingly frustrated at the attention they are receiving from anti hunting groups, week in week out. (Video footage to follow).
After the masked thug made off, the Hunt continued to hunt around the estate, in particular around Fishpond and Castle Hill Woods. They then quickly headed east, where a member of Sheffield Hunt Saboteurs had a distressed member of the public approach to say their children had heard a fox screaming as it was killed by hounds. We cannot imagine the trauma felt from hearing such a horrific noise.
Devastated and as determined as ever, sabs kept up with the Hunt, all while Huntsman David Elliot continued to cast hounds into woodland where trails could never have been laid. The Hunt spent much of the morning crossing busy main roads, and decided to head down into Brockadale Nature Reserve, a site owned by Yorkshire Wildlife Trust. The trust make it explicitly clear that no form of hunting is permitted on their land, but this would never stop the bloodlust of the Badsworth and York and Ainsty Hunt staff. It's important to add the blatancy of this hunting, which continued up until around 10.30, was not even questioned by the attending officers by North Yorkshire police, when they were told time and time again of their illegal hunting.
We are in need of some new recording equipment, any pennies you can chuck us to help with the costs would be greatly appreciated… LOVE AND RAGE, WYHS. https://ko-fi.com/westyorkshirehuntsaboteurs.
See also report by York Anti-Hunt League
Monitors find Cheshire FH having nothing more than a fun ride
Last season's serial killers haven't yet cub hunted this season
28-9-19 Facebook - Cheshire Monitors Very interesting times. We are experiencing very interesting times here in Cheshire. None of Cheshire's three Hunts are behaving like they did last season.
The Cheshire Hounds this afternoon was a case in point. Last season, this Huntsman was blatant with his killing of foxes so when we got a vague message from a worried local that they'd seen the hunt out in Huxley a couple of our monitors went to have a look. We have had no reports of this hunt cubbing this season at all but it's always best to be sure.
Our monitors found them just having a fun ride with people on push bikes along with children and some adults on horseback.
These are Interesting times indeed so watch this space.
Portman FH filmed hunting and refusing to call hounds off foxes
Challenged by 2 members of the public who saw them at it
23-9-19 Facebook - Wildlife Witness VIDEO Here is a video of events this morning with the Portman Hunt. This is a joint video with our colleagues at North Dorset Hunt Saboteurs who joined us today at incredibly short notice.
Thanks too to our supporters who tipped us off as to the Hunt's location and to the members of the public who helped us today.
POWAperson adds – The film opens with a driver in a van pulling up on a country road. He has seen a fox cross, can hear hounds in cry and see a rider the other side of a hedge slapping his saddle [below] to try to scare the fox back towards the pack [saddle slapping doesn't achieve a lot in 'trail hunting']. The driver has complained to hunt staff. The saddle slapper, unaware, carries on until told by an anti that he's being filmed.
Later in the morning, another member of the public sees the Hunt chasing a fox. Sabs find excited hounds searching hedges in a narrow country lane, accompanied by a mounted Hunt employee. His response to a sab urging him to call hounds off is to harass them [below]. Another Hunt employee, cantering on tarmac, then encourages hounds on, even though he clearly knows they are pursuing a fox.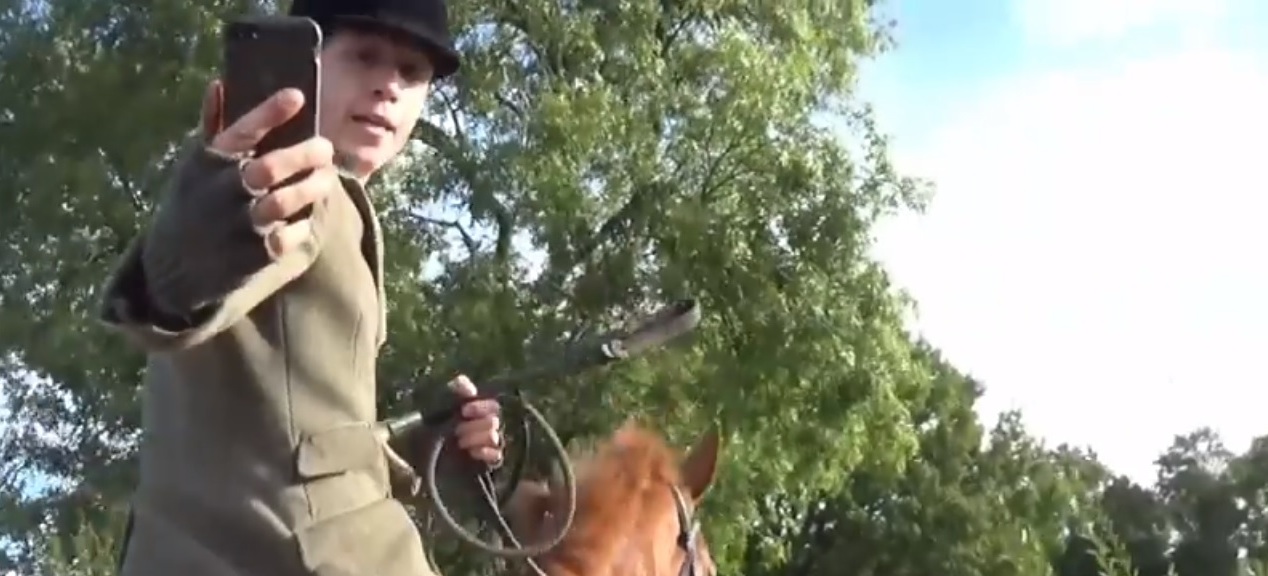 Newark Council bans South Notts FH from market place on NYD
22-9-19 The Canary A council bans the 'most appalling' Hunt from parading through its town South Notts Hunt in Newark A Nottinghamshire council has kicked a Hunt from its land. And it's the latest in a string of councils waking up to the horrors of hunting.
Newark Town Council has banned South Notts Hunt from parading through the town on New Year's Day 2020. On 20 September, Newark Advertiser reported that the council's finance and general purposes committee voted to stop the "traditional" 1 January meet, which took place every year in the market place.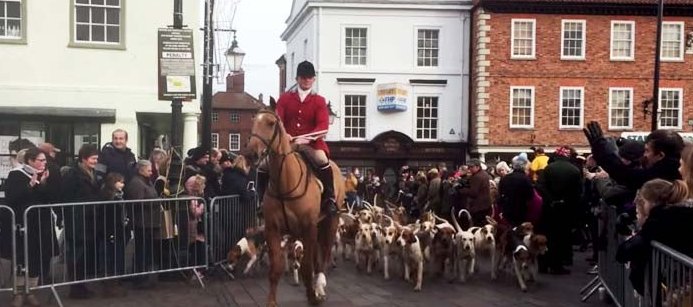 The newspaper quoted Gill Dawn, deputy leader and chair of the committee, as saying: "The hunt is the most appalling thing to happen, encouraging people to abuse animals and dress up and drink. However Kate Cressey, master of South Notts Hunt, claimed on Facebook that the Hunt still plans to meet in Newark on New Year's Day.
Derby Hunt Saboteurs protested outside the Navigation Inn, Breaston, Derbyshire, in April. Labour MP Chris Williamson attended the protest, which demanded the pub stop hosting the South Notts Hunt.
Sabs ensure Badsworth etc FH cubbing fails - terrierman swears at local
Hunt rides through housing estate - hounds run through gardens
20-9-19 Facebook - York Anti-Hunt League Hit report, York and Ainsty South/Badsworth and Bramham Hounds, Flaxley Road, Selby, Wednesday 18th September 2019 Wednesday's YAS/BBMH Cubbing Meet was in a lane off Flaxley Road, just on the outskirts of Selby, North Yorkshire, at around 6.30am. They hunted within a small triangle of land between Selby, Wistow and Thorpe Wood.
3 terrier men were in attendance, including Ryan Kennett and Steve Parkin. Ryan Kennett was seen on a public highway without registration plates. When questioned for the second time that week about his lack of reg plates he said "they've fallen off"! Again!! How careless.
Around 25 riders were out including children. Hounds were regularly cast into beet and maize fields within the confines of the area and riders were on point surrounding the fields waiting for a fox to be flushed out so they could frighten it back into the jaws of the hounds.
We kept eyes on them at all times, and are certain there were no kills. At one point, terrier man Ryan Kennett was bent down and looking very shifty by a small wooded covert; as we approached one of the riders warned him and he leapt on his quad like a scalded cat and quickly rode off. What was he up to? No good, we're sure.
We were heartened by the amount of support we received from local people one of whom called the police after horses and hounds had ridden through a housing estate down Cross Hills lane to reach another maize field, still determined to get a kill. A couple of hounds were running loose in gardens and whipper in Jack O'Rourke had to retrieve one by tying his whip round its neck and dragging it back to where the terrier men were standing. Which begs the question again, why were three terrier men in attendance if they were hunting within the law?
Joint Hunt Masters David Elliott and Willie Dixon were both overheard using foul abusive language to a concerned member of the public, who had the audacity to question what they were doing.
Also in attendance was ex West Yorkshire Police Richard Thompson and he was seen handing his phone to a supporter and asking her to take pictures of our driver and the vehicle.
BBMH joint Huntsman Willie DIxon was overheard saying to a few riders "shall we pack up or shall we go back to that wood where we saw one earlier?" Sure enough, they rode back to the wood but we were there to greet them and they packed up shortly afterwards.
Be under no illusions, this Hunt goes out to kill, no ifs no buts. We're confident our presence makes a difference.
If you are able to support us financially then please see our KO-FI link below as we urgently need additional camera / recording equipment. If not then all support however given is most gratefully received on behalf of the Team at YAHL and of course our local wildlife. Thank you ❤️. https://ko-fi.com/yorkanti_huntleague.
Monitors aid escape of exhausted stag from Quantock SH
Rider was preparing to shoot at stag with monitors very nearby
17-9-19 Facebook - Somerset Wildlife Crime VIDEO Trophy Hunting A three minute video showing the chaos and cruelty of stag hunting on the Quantocks. Banned 15 years ago, the grotesque blood sport has barely changed.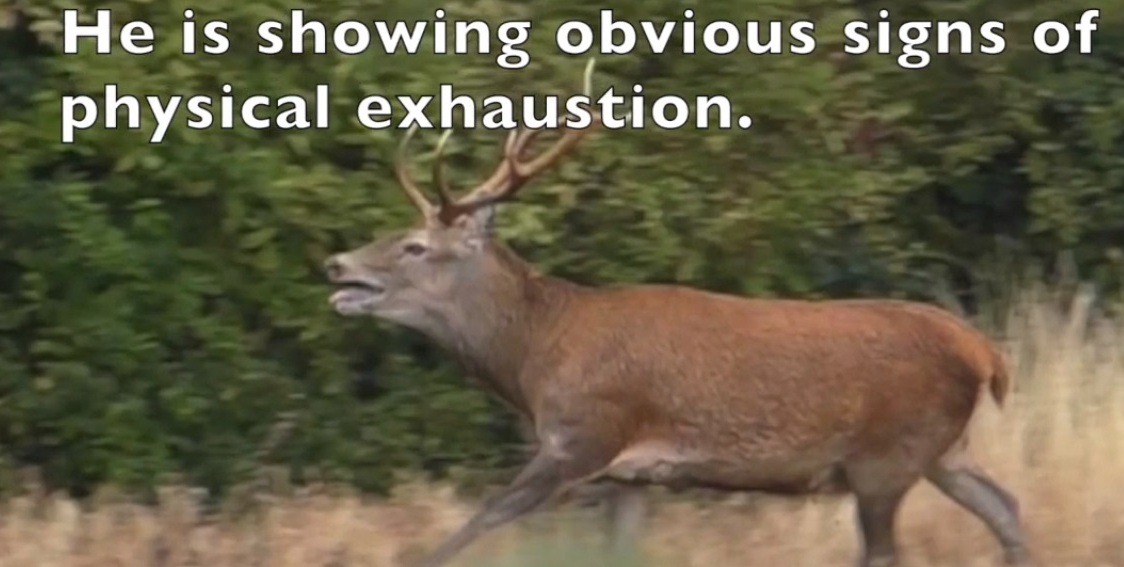 This healthy stag was terrorised and chased by PEOPLE desperate to kill him. Our monitors were assaulted, harassed and put at risk all for the blood lust of the hunters. The stag was afforded the chance to escape thanks to the tenacity and bravery of monitors from Somerset Wildlife Crime and Hounds Off. Hunt staff with firearms prepared to take a last minute shot at this stag put the safety of our monitors at risk. This all takes place under the guise of exempt hunting. Never has it been more evident that the exemptions aren't working, they are explo